Click the "Sliders" icon (Configure) from the left navigation menu..

Choose "System Settings" then select "Voice and SMS".

To leave a message, callers can press 1. They can press 2 to be forwarded to the assigned number.
Setting up the Default Voice Message (For Incoming Calls) When callers press " 1 "
Voice Message Text (Text to Voice). Type in the message you would like the callers to hear when they call.

The system will read the text you type in (a digital operator voice) E.g Thanks for calling. Please press 1 to leave a message, press 2 to be forwarded to our staff.

If you would like to record your message (using your own voice). Click the "Record Message" button, and provide the phone number that the system will call for you to record your own voice message.

Follow the prompt, wait for a few minutes, and refresh the page. A recording with a play button will reflect once the system has uploaded your recorded voice message.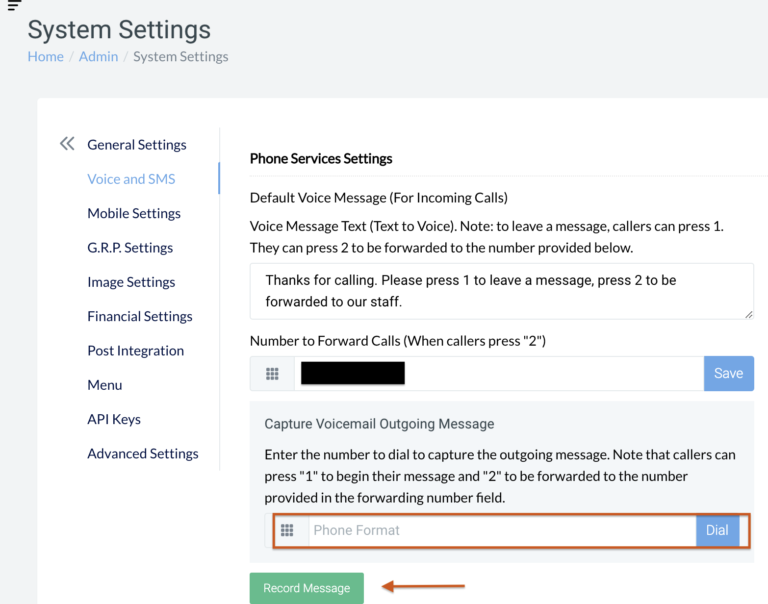 Assign the Number to Forward Call- When callers press " 2 "
Put in the number you would like to assign to forward calls to. Once done, click "Save."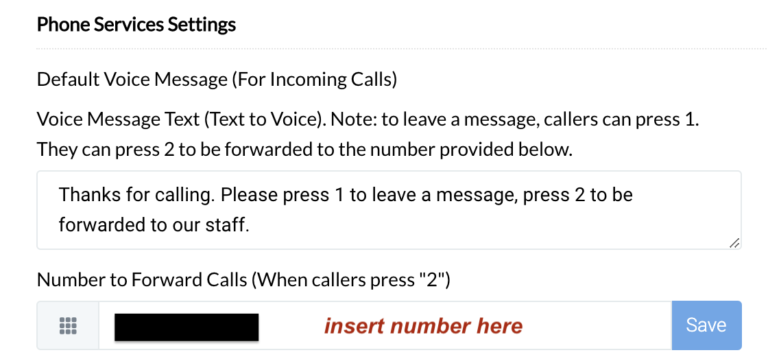 Assign a Group for All Voicemails Received
We recommend you create a specific group that handles all sms and voicemails the church receives.
On the same page, select which group is assigned for all voicemails received.